Face Mask - Tips and Tricks to keep you comfortable and Safe

This week, protective face masks have become mandatory in parts of Australia for the first time since the COVID-19 pandemic began.
Face coverings are now compulsory for residents in metropolitan Melbourne and Mitchell Shire when outside of their homes, with $200 on-the-spot fines for non-compliance. Though the practice is not currently compulsory elsewhere in the country, some people have embraced it voluntarily.
For many Aussies, wearing a face mask will be a new experience — as will some of the little annoyances that come with it, like sore ears and fogging glasses.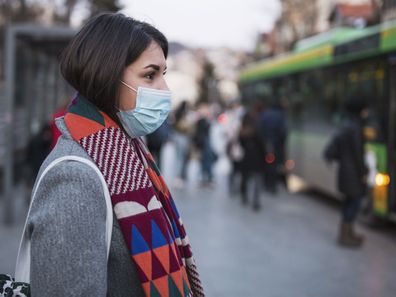 For sore ears
Having elastic looped around your ears for hours may cause some discomfort, but there are some simple ways to alleviate this.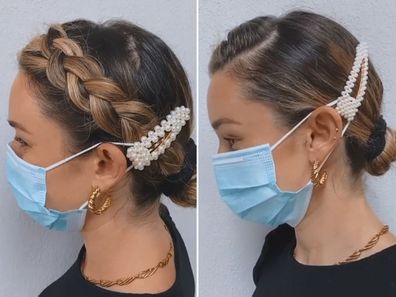 Conveniently, decorative hair clips like the ones pictured have been a major accessories trend over the past couple of years, so they should be easy to find in stores.
Don't have that particular hair accessory available?
Well, you might like to try an alternative technique shared online by numerous health professionals.
It requires rummaging through the toy box, as the key ingredient is (drum roll, please)... a Barrel O' Monkeys monkey!
To work effectively, face masks need to fit snugly and securely around your face, covering the nose and mouth.
If yours is feeling a little loose or is gaping at the edges, there's a simple way to tighten it, as demonstrated on TikTok by dentist Olivia Cui.
Using a single-use surgical mask, Dr Cui folds the mask in half and ties a knot in the elastic loops close to each side of the mask material. She opens the mask back up and tucks in the gaping material at each side to close the gaps before putting it back on.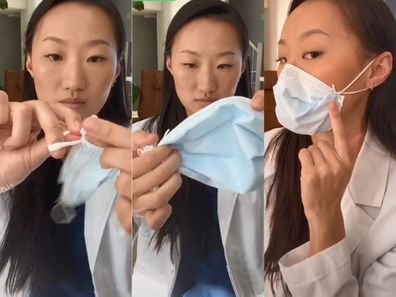 For glasses-wearers
Around the world, bespectacled folk have become acquainted with an unfortunate downside of face masks: foggy lenses.
Glasses-wearers have bemoaned the phenomenon on social media, with others sharing their clever solutions.
Among them is New York eye doctor Jennifer Tsai, who shared three methods for combating steamy glasses on TikTok.
The first involves placing a folded tissue under the top of the mask to create a barrier between the wearer's breath and their specs.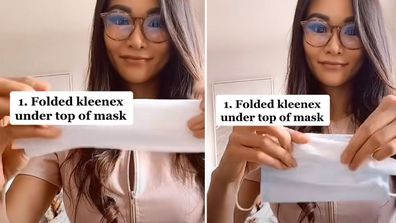 Dr Tsai also suggested using surgical tape at the top of the mask to seal off any gaps around the bridge of her nose and under-eye area.
The third option is spritzing a mix of baby shampoo and water onto the lenses, then rinsing them with water and drying before wearing with a face mask.
Good luck!
With Victoria in the middle of stage three and four restrictions face masks are mandatory.
While masks are not currently compulsory elsewhere in Australia, New South Wales has rolled out strong new state-wide face mask recommendations as a result of the worsening situation in Victoria. Meaning they're a sensible measure to help minimise the spread of germs and protect those vulnerable within the community.
So, we've rounded up reusable options that won't put added strain on the demand for disposable PPE in the healthcare system, but will still serve as a helpful alternative.
From local Aussies, who are doing their bit to help those around them by donating proceeds from the sale of reusable masks and offering jobs to those in need, to international brands doing the same, there are plenty of options that will suit any budget.
For reusable, washable and stylish face masks, scroll!
RELATED: Simple tricks to make your face mask more comfortable to wear
Note: These reusable masks don't claim to be medical grade and they shouldn't be considered your only form of protection against COVID-19. Good hygiene, social distancing and getting tested even if you have minor symptoms, together with wearing a face mask in public, in accordance with official recommendations, is the best way to help reduce the spread of coronavirus.
7